This is Championship Central where you can relive the entire Jordan football season before the Panthers play Northwood in the CIF Southern Section Division 11 championship at Irvine High tonight. Kickoff is scheduled for 7 p.m.
Jordan came into this season looking to improve after a disappointing spring and got it started right with a dramatic overtime win over Kennedy.
Read more about the season opening victory
COLUMN: Let's Appreciate Friday Night Lights While They're Here
After struggling in a 34-6 loss at JW North in week two, Jordan bounced back with a 36-20 victory at Fairfax.
Read more about senior Elijah Jones
With the best record in Long Beach at the time, the Panthers stumbled at the end of September with consecutive losses to St. Paul, Millikan and Lakewood. The defeat at the hands of the Lancers came on a last-minute touchdown.
The season turned around when Jordan grabbed its first Moore League victory against Compton.
Watch the highlight video from the win over Compton
Jordan beat Wilson for the first time since 2012 the next week to put itself in the playoff hunt.
Full coverage with article, video and photos from the win at Wilson
The Panthers extended its winning streak with a 74-6 win at Cabrillo.
Jordan suffered a 42-0 loss at home to Long Beach Poly in the regular season finale at the end of October.
The Panthers got into the playoffs via an at-large bid after finishing in a tie for third place in the Moore League.
Watch video of the envelope draw that decided Jordan's playoff fate
Jordan showed off its elite speed in the 46-21 win over visiting Rim Of The World in the playoff opener. Damian Henderson had a trio of long touchdown runs in the victory.
Read more about Damian Henderson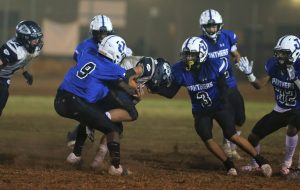 The Panthers came back to beat Granite Hills in the second round thanks to a fantastic game from Jordan Washington.
Read more about Jordan Washington
Jordan beat Twentynine Palms in the semifinals after senior Jeremie McGurn made a string of big plays in the second half.
Read more about Jeremie McGurn
Jordan Gets Comfortable At CIF Football Championship Luncheon
CIF Football Preview: Jordan vs. Northwood, Division 11 Championship