We're thrilled to be in our ninth year of presenting the Grunion Sports and The562.org's All-City Awards, a revival of a beloved city tradition. This week we'll be presenting our individual All-City Athletes of the Year awards to the top performers in each sport, then next week we'll name our top boy and girl athlete of the year, as well as our other awards including Top Moments, Coach of the Year, Game of the Year and more.
Football: Wendell "Wowo" Moe, Long Beach Poly
The most dominant player in this city was a senior who did the dirty work. Long Beach Poly lineman Wendell "Wowo" Moe was a star as an interior defensive and offensive lineman, drawing double teams and clogging lanes on the defensive side and delivering punishing blows as a pulling guard offensively. Behind he and the other Poly offensive lineman, the Jackrabbits piled up 388 yards rushing in the championship game and averaged more than 10 yards per carry in the playoffs. Moe is signed with Arizona to continue his play in the NCAA next year.
Girls' Volleyball: Laura Williams, Lakewood & Adonia Faumuina, Long Beach Poly
Long Beach was blessed with not one, but two All-American girls' volleyball players this year, a rare feat for any city and a first for Long Beach.
Lakewood's Laura Williams was the Moore League Player of the Year and led the Lancers to a league championship. The athletic Williams was a six-rotation workhorse for the Lancers, demonstrating the hard work she put in to develop her passing while still dominating as a pin hitter, leading Lakewood in kills and blocks. Williams was also All-CIF in Division 1 and signed with Oregon State to continue her volleyball career collegiately.
Long Beach Poly senior Adonia Faumuina had her senior season hampered by injuries, but still demonstrated why she's one of the top recruits to come out of the city since Cynthia Barboza, who won National Player of the Year honors at Wilson. Faumuina was physically dominant at 6-foot-4, but also brought leadership skills and tenacity to Poly this year. PrepVolleyball.com had her as the No. 7 recruit in the nation, and she is signed with USC where she will continue to battle against her friend and Moore League foe Williams in the Pac-12.
Girls' Cross Country: Camille Lindsay, Long Beach Poly
Lindsay has proven capable of dominating her competition in the Moore League, and she did it for much of this past season. The junior Jackrabbit wasn't fully healthy all year, but won every race comfortably including a 36-second win at league finals. Lindsay went on to represent the Moore League at the CIF-SS championships, taking 10th in the Division 1 race to qualify for her first trip to the state meet.
Boys' Water Polo: Gray Carson, Wilson
Once again Gray Carson was the best high school water polo player in Long Beach by quite a large margin. The four-year Varsity star led the Bruins back to the CIF-SS Division 1 semifinals for the first time in a decade. Carson was a goal-scoring machine for Wilson and wants to be the same thing at UCLA. He also has high hopes to be part of Long Beach Olympics tradition.
Boys' Cross Country: Jason Parra, Millikan
Our reigning All-City Freshman of the Year delivered a solid encore in his 10th grade campaign with the Rams. He started off the league season by breaking the course record at El Dorado and would later go on to break the school record in the three-mile. Parra finished eighth in a loaded Division 1 race at the CIF-SS finals with a time of 15:05.6, finishing behind the record-setting Newbury Park squad. His finish earned him an invitation to the CIF State meet, where Parra may be returning twice more in his high school career.
Girls' Golf: Alyson Sor, Wilson
The Moore League girls' golf individual championship round ended in a playoff between friends and teammates, but when the dust settled Wilson junior Alyson Sor stood alone at the top. Sor started the final round four shots behind Wilson senior Emi Sverduk, but posted a five-under round to force a playoff. She birdied the first playoff hole to win her second individual title.
Girls' Tennis: Maya Alvarez, Millikan
It only took Maya Alvarez one Moore League girls' tennis singles final appearance to achieve her goal. The Millikan senior split her two regular season matches with Wilson freshman Vanessa Holden, but came out on top 6-3, 6-4 in the championship match.
Boys' Basketball: Christian Watson, Long Beach Poly & Jaayden Bush, St. Anthony
Long Beach was blessed with deep basketball talent this year and featured players on almost every team.
At Long Beach Poly, senior Christian Watson stepped out of the shadows and into his own legacy, earning Moore League Player of the Year honors as he led Poly to an undefeated league championship, as well as an appearance in the CIF-SS Division 2AA championship game, where Poly fell short on the road. Watson, who earned All-CIF honors for his excellent play, led Poly in scoring, rebounding, assists, and blocked shots this season.
This wasn't supposed to be St. Anthony's year. With the departure of a strong senior class and stalwart coach Allen Caveness, few expected a landmark year from the Saints. But first-year coach Alan Mitchell's squad proved doubters wrong with an 18-10 season that included a run to the Division 1 semifinals. Senior Jaayden Bush earned All-CIF honors in that division as he put up a team-high 18.6 points per game and 3.5 assists per game.
Girls' Basketball: Nala Williams, Long Beach Poly
To call Nala Williams the heart and soul of this year's Long Beach Poly girls' basketball team would actually be underselling her importance. During the regular season and in the playoffs, Williams carried the defending CIF champions, leading the Jackrabbits in points (18.1) and rebounds (10.9) per game while also ranking second in assists (3.5) and steals (4.3). She had double-digit points in every game but one this season, and went off for 31 points in Poly's CIF quarterfinal win to help Poly reach the Division 1 semifinals. Williams will continue her playing career next season at Cal State Dominguez Hills.
Boys' Soccer: Gavin Pool-Harris, Wilson
The Wilson boys' soccer team won its second Moore League title in the last four seasons thanks to an impenetrable defense led by goalkeeper Gavin Pool-Harris. The junior had 11 clean sheets in the regular season while Wilson tied a record by giving up only three goals during league play.
Girls' Soccer: Olivia Herrera, Wilson
Some of the most exciting moments of the Moore League girls' soccer season came from the Wilson goal where league Goalkeeper of the Year Olivia Herrera made multiple athletic saves that helped the Bruins win a third league title in the last six seasons. Herrera finished the season with an impressive 13 clean sheets. She will continue her athletic and academic career at Arizona State University.
Girls' Water Polo: Maya O'Dea, Wilson
There wasn't much Maya O'Dea didn't do for Wilson girls' water polo this year. She scored a hat trick in the first quarter of the Moore League title clinching game, and then she scored a game-high six goals in the first-round playoff win. It was the first postseason victory for Wilson since 2018.
Boys' Wrestling: Kydyn Lima, Millikan
The return of a normal high school wrestling season gave Millikan captain Kydyn Lima the chance to repeat as 152-pound champion of the Moore League. Lima then helped the Rams make a CIF championship match appearance.
Girls' Wrestling: Saiheron Preciado-Meza, Lakewood
A week after winning the CIF Masters championship at 189 pounds, Lakewood's Saiheron Preciado-Meza finished third at CIF State. She finished the season with 34 wins and only one loss, which came during the State competition in Bakersfield. Thirty of her victories came via pin.
Baseball: Myles Patton, Millikan & Anthony Eyanson, Lakewood
One of the best games in the city this year was the Moore League baseball epic battle between Lakewood's Anthony Eyanson and Millikan's Myles Patton on Bohl Diamond at Blair Field. Both elite pitchers tossed absolute gems before being forced to give up the ball because of pitch count limitations while Millikan pulled away for a 1-0 extra innings win.
Eyanson, who will be attending UC San Diego this year, didn't give up a hit in his seven innings while striking out 11 batters. He went on to pitch 29.1 consecutive scoreless league innings for the Lancers.
Patton, who will be at Long Beach State Dirtbag, gave up three hits and a walk in that win over Lakewood while striking out 13 in 7+ innings pitched. He also delivered another heroic performance in the playoffs when he tossed a complete-game shutout i the first round. Patton only gave up two hits and then also delivered the game-winning RBI.
Softball: Ava Schaffel, Millikan & Rose Cano, St. Anthony
Two of the best softball pitchers Long Beach has seen in awhile led their respective teams to historic postseason runs after not even starting the season as the ace in the circle.
Millikan sophomore Ava Schaffel watched All-Moore League teammate Victoria Byrum take the ball in all of the big games until she went down with injury in the middle of the season. Schaffel took over and helped the Rams reach their first CIF championship game since 2005. She also tossed a no-hitter against Wilson and pitched on back-to-back days to win the league title over Lakewood and Poly.
St. Anthony senior Rose Cano was dealing with a lingering back injury when the season started, but she got healthy in time to lead the Saints to their first ever Del Rey League title and CIF SoCal Regional championship. Cano was a cornerstone of the St. Anthony program for four years, and will be attending George Washington.
"Whenever they talk about the pest softball pitchers at St. Anthony they'll have to talk about Rose Cano," St. Anthony coach Joe Younger said.
Boys' Volleyball: Leo Pravednikov, Wilson
Few teams in any sport dominated the Moore League like the Wilson boys' volleyball team did over the last two years, barely dropping a set during their two-year undefeated run. The Bruins weren't able to defend their CIF-SS championship from 2021 but a big part of their Long Beach dominance was the continued stellar play of senior Leo Pravednikov, who was arguably the best hitter, blocker, and passer in the Moore League this year. Pravednikov is taking his grit and his all-around skills to UCSD, where he'll get to play in the nation's best conference, the Big West.
Beach Volleyball: Halie McGinest & Adonia Faumuina, Long Beach Poly
Smarting from a disappointing Fall indoor volleyball season, Poly senior Adonia Faumuina (our co-girls' volleyball honoree) and teammate sophomore Halie McGinest teamed up on the beach. Faumuina and McGinest won the inaugural Moore League beach volleyball pairs championship, impressing all season with impressive play. They were pushed in the semis and finals but prevailed over the top duos from Millikan and Wilson.
Boys' Golf: Ky Stopp, Wilson
It didn't look good for Wilson's Ky Stopp when he started the final round of the Moore League individual final at El Dorado Golf Course two shots back of the leader. But The junior proceeded to shoot a one-under round of 71 and his birdie on the 18th hole clinched the victory.
Boys' Swimming: Hank Rivers, Wilson
The last two Moore League boys' swimming finals have been the Hank Rivers show. He set a handful of records as a junior, and then doubled in the 200 freestyle and the 100 breaststroke this year before anchoring Wilson's victory in the 200 free relay that beat their own league record with a time of 1:26.14. Rivers will be swim at Cal next season.
Girls' Swimming: Sammie Hamilton, Wilson
Dominant performances in championship freestyle races have set Wilson sophomore Sammie Hamilton apart. She won the 200 freestyle and 500 freestyle league final races with ease, and was also part of the 200 freestyle and 400 freestyle relay teams that secured the first Wilson team win since 2015.
"She's a rare gem and we're blessed she came to Wilson," Wilson coach Maggi Twinem said.
Boys' Track & Field: Jordan Washington, Jordan & Jaelen Knox, Long Beach Poly & Isaac Lewis, Wilson
Another memorable track and field season in Long Beach made this an impossible choice. Jordan, Poly and Wilson all shared the Moore League boys' track and field championship this year, and each school had an athlete who put together special seasons in different ways.
Jordan Washington helped lead Jordan to its first CIF title in 21 years by winning the CIF sprint double, with individual titles in the 100m and 200m. Washington also helped the boys' 4x100 and 4x400 relays rack up valuable team points to bring the Panthers their gold plaque over Mater Dei.
Jaelen Knox went head-to-head with Washington a few times this season, showing his superiority in the 200m. Knox set a school record and a meet record in that event at the prestigious Mt. SAC Relays, and he claimed the Division 1 CIF title in that event while taking silver in the 100m. He was also a powerful force on Poly's 4x100 relay.
Finally, no athlete dominated Moore League finals quite like Wilson's Isaac Lewis, who won three individual league titles while also contributing to Wilson's state-leading 4x400 relay. Lewis won both the 110m and 300m hurdles for the Bruins, and also took gold in the 400. His heavy workload then helped propel Wilson to a runner-up trophy in Division 1 at the CIF-SS finals.
Girls' Track & Field: Lauren Reed, Long Beach Poly & Aujane Luckey, Wilson
On the track, Luckey earns recognition for being a standout in the 200m and 400m. She won both events at league finals, then was runner-up in both events at the CIF-SS finals. Finally, at the CIF State meet, Luckey placed second in the 400 and took third in the 200. The junior also ran in both relays for the Bruins and has been a centerpiece of the program during her career.
Reed, meanwhile, was the best field athlete in the city this year. She swept the long jump and triple jump at league finals and was huge in Poly's runner-up finish at CIF. Reed helped Poly to valuable points in the 4x100 relay while also placing fifth in the long jump and an impressive second place in the triple jump with a PR of 39-07.5. The departing senior is headed to Cal to continue her career at the collegiate level.
Boys' Badminton: Prongha Talukder, Long Beach Poly
Talukder finished off his senior season with an impressive performance at league finals. First off, he claimed the boys' singles title with a comfortable 21-8, 21-10 win in the finals of that bracket. Then later in the competition, Talukder paired up with Jackrabbit teammate Krista Lim to win the mixed doubles title by a score of 21-19, 21-11 in the final match. That pair ended up competing in the CIF-SS individual championships and advanced to the CIF SoCal Regionals to close out the season.
Girls' Badminton: Maryssa Tan, Long Beach Poly
The girls' competition was much closer this year in the Moore League, but the nod goes to the girls' singles champion, senior Maryssa Tan. She triumphed over teammate Krista Lim in the finals, which was actually the first time Tan was able to beat Lim, picking the perfect time to do so. Tan was also clutch for the Jackrabbits during their CIF postseason run, coming back from a 20-15 deficit in the decisive third game to win 23-21, giving Poly a key victory to tie its quarterfinal match at 8-8 against Alhambra.
Gymnastics: Francesa Acosta, Millikan
Once again a Millikan Rams are atop the Moore League and Francesa Acosta was named the overall individual champion at the final meet of the year in May. Millikan has won the last five league titles.
Boys' Tennis: Andy Nguyen, Millikan
There was a lot of pressure on Millikan's Andy Nguyen when he entered the CIF-SS individual tournament as a top seed, but the junior flourished in the postseason and took home the championship after a 6-3, 6-1 victory in the final over Campbell Hall's Cassius Chinlund. He led the Rams to a historic team title last year.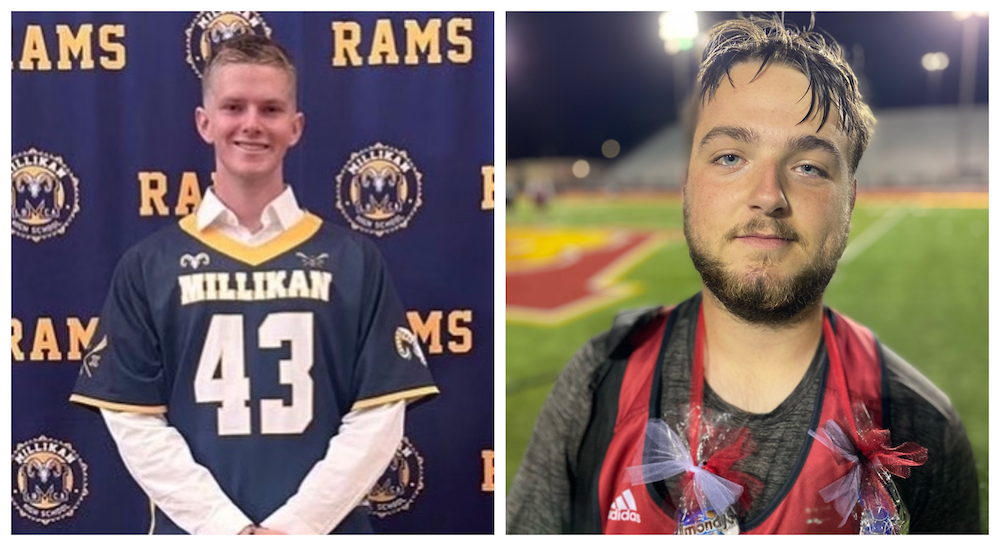 Boys' Lacrosse: Collin Hatton, Millikan & Aidan Wilder, Lakewood
Boys' lacrosse continues to grow in the Moore League, with Lakewood making a splash in its first season. Lancers' goalie Aidan Wilder shares this honor with Millikan's Collin Hatton as both players were named the league's co-Player of the Year.
Hatton was a physical defensive presence for Millikan with his 6-foot-2 frame. He scored just five goals this season but forced 32 turnovers for the Rams defense while averaging an impressive 15 ground balls per game.
Wilder was a senior captain for the Lancers and was a huge playmaker in the cage. In his first season playing lacrosse, he took to the sport like a natural and averaged more than 30 saves per game. He also racked up five wins for Lakewood in the program's inaugural season.
Girls' Lacrosse: Delaney Haubert, Millikan
Senior captain Delaney Haubert was the driving force for Millikan this season as the Rams finished a close runner-up to Wilson in the Moore League title race. Haubert scored 16 goals and had seven assists for the Rams this season, earning the league's Player of the Year honors. In Millikan's last game against Wilson, Haubert scored six goals for the Rams, accounting for more than half her team's scoring.
Come back later this week for more All-City awards!