VIDEO: Jordan vs. Cabrillo, Football
Visit The562.org for more Long Beach sports coverage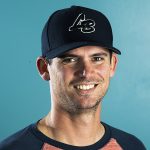 JJ Fiddler
JJ Fiddler is an award-winning sportswriter and videographer who has been covering Southern California sports for multiple newspapers and websites since 2004. After attending Long Beach State and creating the first full sports page at the Union Weekly Newspaper, he has been exclusively covering Long Beach prep sports since 2007.
http://The562.org
Related Articles
Three days after losing their first CIF Southern Section championship game in heartbreaking fashion, Cabrillo boys' soccer bounced back to win the first CIF State Regional Soccer Championship game in school history. Cabrillo made history again by beating Riverside Poly 4-0 for the second time this month. The Jaguars beat the Bears 3-1 in the […]
Last season is one Avalon football wants to forget. After going a combined 30-2 over three consecutive seasons, and winning a CIF 8-man State Championship, the Lancers were 2-6 last year while missing the postseason for the first time since since 2010. More than half of the players on the Avalon roster are seniors, but […]
High School Baseball: Lakewood vs. Long Beach Wilson Visit The562.org for more Long Beach sports coverage.