It's hard to imagine a team in Southern California more eager to get on the field this year than the Millikan Rams, who rebounded from a third-place finish in the Moore League last year to emphatically win the CIF Southern Section Division 3 championship. Making a special run even more unforgettable was winning the championship on their home turf at Bohl Diamond at Blair Field.
The enthusiasm and excitement in East Long Beach after that championship lasted well beyond that one night, and Rams coach Ron Keester said his team is riding that wave into 2022.
"It's just something that created some energy and buzz with our kids," he said. "They're really excited to get this thing started again. We've got a lot of kids who were on the team but weren't necessarily playing that much, they're hungry to get out there."
Leading the way is senior ace pitcher and Dirtbags commit Myles Patton. The lefty showed everyone how dominant he could be last season, and he's hoping to make an even bigger mark this year.
"He's a very humble kid, he goes about his business the right way," said Keester. "He wants to prove it every time. He wants to go to Long Beach State and go further so he's out there to get better."
Patton said he learned more from rare struggles last year than he did from his own and the team's success, and that he's better at managing the mental and emotional side of the game coming into his senior season. That focused leadership has been key to a strong 2-0 start for Millikan.
"I want to work hard and motivate people that way, and everyone on our team has matched that," said Patton. "We're taking steps forward every day, just having that mentality of being ready to go to war every game."
That "ready from the jump" mentality has been a big focus this offseason. Millikan was 25-5 last year but struggled out of the gate, dropping first-round league games to Poly and Lakewood.
"We struggled early last year and we didn't win league, we have to learn the right lesson from that and start out right," said Patton.
"It's not a marathon, it's a sprint," said Keester. "A long sprint. You've got to perform in those games or you can lose this thing in the first couple of games."
Backing up Patton on the mound are twin 6-5 lefties Logan and Jay Carr, who have big upside and who are off to a nice start already this year. Demetri Syrengelas is a strike-thrower, and senior Tyler Carmona is another lefty with great control.
The other big name for the Rams is Sam DeCarlo, a BIOLA signee who's starting at shortstop and will be hitting at or near the top of the lineup all year.
"He can run and he has power, he's a complete player we've got big expectations for," said Keester.
The other news is the return of Ryan Geck, who was a standout freshman at Millikan who departed for Huntington Beach the last two years. The 6-4 first baseman is back with the Rams this year, and Keester said he's been a big presence.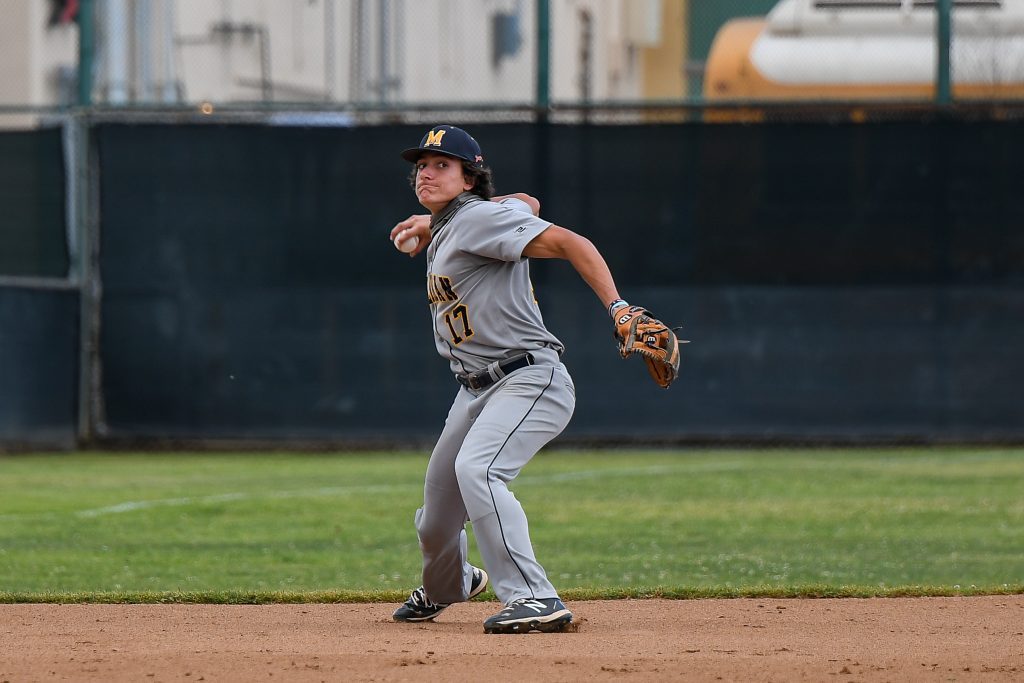 Keester also said his team was beyond thrilled to find out that Blair Field will host most of their big games this season, after COVID-19 disruptions largely isolated the baseball teams to their own campus fields last year, and canceled the season in 2020.
"When we showed them the schedule you could just see the excitement," he said. "We haven't been there regularly for a couple of years. They love having people in the crowd, the roar in the stadium. There's something about that place."
Projected Starting Lineup
C- Alex Womack (Sr.)
1B- Ryan Geck (Sr.)
2B- Gannon DeLaCruz (Sr.)
SS- Sam DeCarlo (Sr.)
3B- Izzy Santillan (Sr.)
OF- Cameran Hegamin (Jr.)
OF- Christian Cuffaro (Sr.)
OF- Matt Harting (Sr.) / Brandon Terlaje (Sr.)
P- Myles Patton (Sr.)