PHOTOS: Moore League Track & Field Finals
John Napalan, All-In Press
John Carlo Napalan is a Long Beach native and has been working in education and coaching since 2012. He is one half of the ALLin.press duo alongside Art O'Neill, and has a passion for sports photography.
Related Articles
The Wilson boys' and girls' golf teams used top performances from their top golfers to beat Millikan on Thursday at El Dorado Park Golf Course. Matthew Schafer has three birdies and an eagle on his way to the medalist honors with a 3-under par round of 33 as the Wilson boys (7-3, 6-0) defeated Millikan […]
This is the season Lakewood boys' soccer has been waiting for, and it will involve even more waiting. Coach Alex Diaz is in his fifth year at the helm and has a roster full of experienced upperclassmen who have grown up in his program. "It's just about us believing in ourselves and not being afraid […]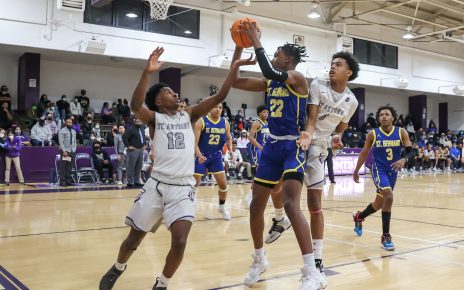 St. Anthony boys' basketball lost its regular season finale at home to St. Bernard 52-48 on Wednesday night. Jaayden Bush scored a game-high 27 points for the Saints.