Gavin Pool-Harris and his two brothers have always been competitive.
"It definitely did get heated," said his twin brother Braden. "We were competing in anything and everything, like how fast you could finish your food."
Gavin, Braden and their older brother Eamon spent their childhood in Long Beach doing as many outdoor activities as possible, and when there were disputes they settled it themselves.
"Sometimes there was fist fighting, but that's brotherhood for you," Gavin said.
The competitive brothers have never stopped trying to one-up each other. For example, Braden and Eamon both have CIF Southern Section championship rings, and Gavin is well aware of that fact.
Braden won his last year with Wilson boys' volleyball, Eamon won his in 2016 as a member of the St. Anthony football team, and now Gavin is trying to get his own with Wilson boys' soccer.
"We've got to do it this year," Gavin said. "Have to."
Pool-Harris is one of the best junior goalkeepers in California, and after a historically successful regular season that ended in a Moore League championship, he's trying to lead the Bruins on a Division 1 postseason run. The playoffs start today as Wilson visits Warren at 3 p.m.
Wilson tied a record by giving up only three goals during league play, and Pool-Harris has 11 clean sheets this season.
"His technical ability, his awareness to know where to be and his attention to detail, like observing a striker and adjusting to what they're doing… It's all so quick that it's next level," Wilson coach CJ Brewer said.
"All props to my back line Beck Peterson, Manuel Garces, Javier Mota-Villegas, Kian Lawrence and Carlos Gonzalez-Garcia," Pool-Harris said. "I haven't had that many shots on me. If there's an MVP of the league it should be my back line."
Pool-Harris has always loved soccer, but he wasn't always a goalkeeper. He made the switch from a striker up top to a stopper in the back when he moved from AYSO to Beach Futbol Club at the age of seven.
"I had good ball skills and I was athletic, but I wasn't super in shape when I was little so it suited me perfectly," Pool-Harris said of being goalkeeper. "I was always attacking the ball (as goalkeeper) and never wanted someone to score on me… It reminds me of playing safety in flag football. You're just sitting back there watching the game and just waiting to make a play."
His confident aggression is a huge reason why Pool-Harris is such a solid goalkeeper, and he knows where it comes from.
"(My brothers and I) all have a good relationship now because your relationship grows with maturity, but I think that competitiveness when we were little, and just always trying to be the best, has helped me get to where I am today," Pool-Harris said.
Club soccer coaches quickly noticed Pool-Harris' knack for playing in goal. He started thinking in terms of playing soccer in college when he was only 10, and was in the elite Pateadores Soccer Club developmental academy when the club level dissolved last year.
Pool-Harris played volleyball with his brother during their freshman year at Wilson, but when the rules changed about DA players participating in high school, he jumped at the challenge of being Bruins' number one as a sophomore.
"The first day (he came to practice) I was the only coach there, so I recorded him doing some 'wow' things," Brewer said. "I sent it to all the other coaches, and the next day I've got every coach at practice because they all wanted to see him."
Wilson was one win away from taking the league title last year with Pool-Harris in goal.
"That season was nerve-racking," Pool-Harris said. "It seems like I was so little looking back at it… I was always super nervous during games."
Pool-Harris has worked hard on becoming a vocal leader this season, and he thinks that being a new team captain alongside Beck Peterson and Cole Worden is a big reason why the Bruins are back on top of the league.
"We take it super seriously," Pool-Harris said. "Beck leads by example. Cole is good with tactics. I'm kind of the mean captain sometimes, I have to yell at our teammates to make sure we're always focused and on top of our game. That's part of being a captain."
Another part of being a team leader is having a presence on campus, but that's a little different for Pool-Harris because there's two of him walking around Wilson every day.
"When my soccer team sees (my brother Braden) around school and his volleyball team sees me they're always confused… they're trying to do handshakes and stuff and they have no clue they're talking to the wrong twin," Pool-Harris said.
Both Gavin and Braden said they wouldn't have it any other way. They still live in the same room with the same bunk beds.
"It's really fun to go to their games," Braden said. "I really enjoy them more than my games. I love the competition, but sitting on the sidelines and cheering on my brother is just one of my favorite things to do."
"I miss the days where me and my brothers were playing football outside or playing basketball at the park with no worries," Pool-Harris said. "Just running around with no worries, having a great time."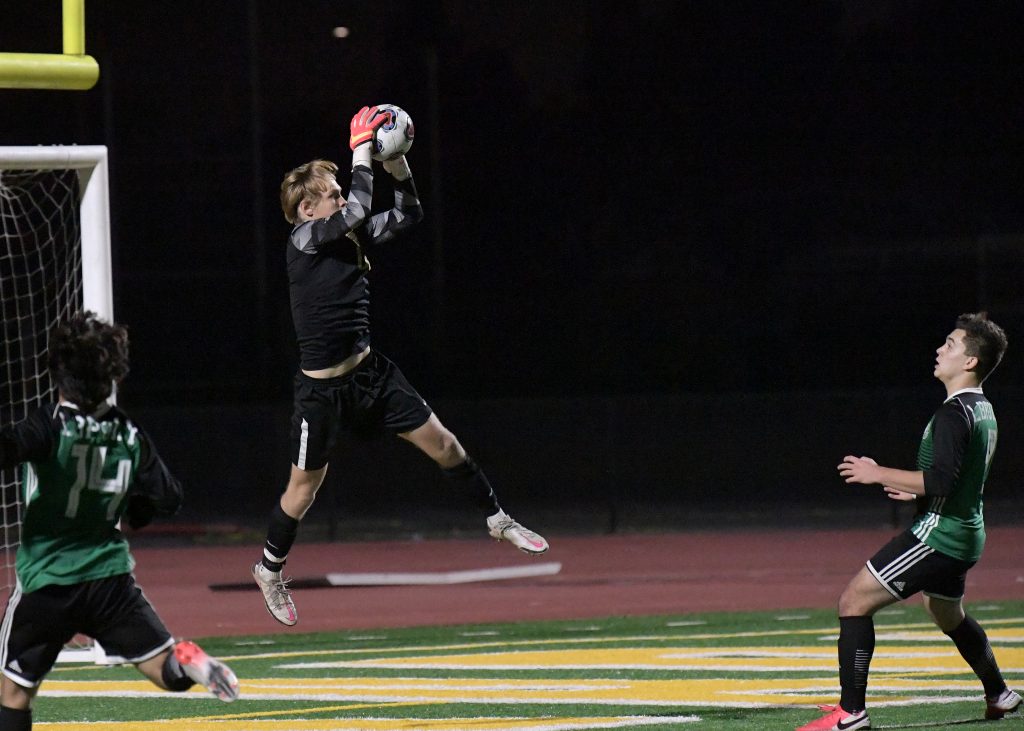 Long Beach is sending four girls' soccer teams to the CIF Southern Section playoffs this week. The brackets were released this morning, and the first round is Saturday. Most games will be played at 3 p.m. or 5 p.m. Division 1 Millikan (18-3-2) and Long Beach Poly (11-5-2) are on the opposite side of the […]