Whether or not there's a "Clutch Gene" is always a good sports debate.
Do some athletes have an inborn ability to raise their level of performance when the game is on the line?
We may never know, but senior Camryn Cruz knows why she has been clutch for Wilson girls' soccer this season.
"Not focusing on those moments leads to those moments, and I do tend to have those moments," Cruz said. "I'm more calm (in those moments) than I am in normal games. I work very well under pressure. I like it. I think it motivates me."
Cruz has already scored imperative game-winning goals against Long Beach Poly and Millikan this season, and the Bruins hope their attacking midfielder is ready to perform in the clutch again tonight. Wilson is visiting Millikan where the winner will take home the Moore League championship. The Bruins would also take the title with a draw. Kickoff is scheduled for 6.
"We need to stay calm and play the way we like to play," Cruz said of the key to victory for Wilson. "We have to play with composure, and professionally, to make sure this game gets taken care of."
It's plain to see that Cruz has a natural talent for making big plays, but that hasn't always come naturally.
"I challenge anyone to find a harder working player than (Cruz)," said former Wilson soccer coach Dalton Kaufman. "Her athleticism, blue-collar work ethic, and attacking mentality puts her only a touch or two from a quality shot every time she touches the ball in the attacking third. A goalkeeper better not blink when Cam is around the 18-yard box."
Cruz was born and raised in Long Beach where she fostered a competitive spirit by hanging out with her brother, Brock, and his friends. Her dad, Matt, played soccer at Lakewood High, and her mom, Amy, was a gymnast at Millikan. Her brother is currently a junior at Wilson who plays lacrosse.
"She's always had that go-getter mentality," Matt Cruz said. "She's very competitive… She quickly got to a point (in AYSO soccer) where she needed better coaching than just parents. She's way better than I ever was."
Cruz started playing club soccer when she was eight, and ended up playing for Cypress, FC Long Beach, Beach FC, LA Galaxy and Slammers.
"Moving clubs as a player gives you more exposure and you learn different types of soccer," Cruz said. "You have different standards in different places. Moving around helped make me the player I am today."
"She's very unselfish," Matt said of his daughter's playing style. "She played striker for a long time so she never really had the ball at her feet a lot. Now that she's in that attacking midfielder role I think it's a better fit for her. She has great field vision, can pick out players and always makes good passes."
The atmosphere around the Long Beach soccer clubs also fits Cruz's personality.
"The Long Beach clubs are family," Cruz said. "They're very loving. When you're part of that team that is your main priority."
In 2017, Cruz won multiple state and national cups with Beach FC. Her performance in those top competitions earned her a spot with other local players to try out for the Los Angeles Galaxy Developmental Academy team. She made the squad and spent two years with the professional club. They played their home games at StubHub Center, and traveled to competitions in Arizona, Nevada, Colorado and Florida.
"It was really fun and one of the craziest experiences I've ever had," Cruz said. "It was like what I think playing high level college soccer would be like. I was involved with the professional athletes daily."
Per CIF Southern Section rules, playing for a developmental academy made Cruz ineligible for high school competition. But instead of just concentrating on herself, Cruz stayed involved with the Wilson soccer program as a freshman and sophomore while playing for Galaxy.
"She still came to every Wilson game wearing her Bruin soccer sweatshirt and cheered for her friends," Kaufman said. "That loyalty was not lost on her teammates when she was officially rostered her junior year and she soon became a soft-spoken leader on the team."
When the CIF-SS changed its rule after the developmental academy landscape shifted, Cruz immediately came back to play for Wilson as a junior.
"It's been a lot different but I love it," Cruz said of coming back to Wilson. "I was super excited to play with my friends and represent the school. It's been amazing."
Cruz is part of a large senior class leading this Wilson squad, and they got off to a great start this season. Cruz ended up scoring the game-winning goal to beat Poly in the league opener, but then the Bruins hit a slump in early January.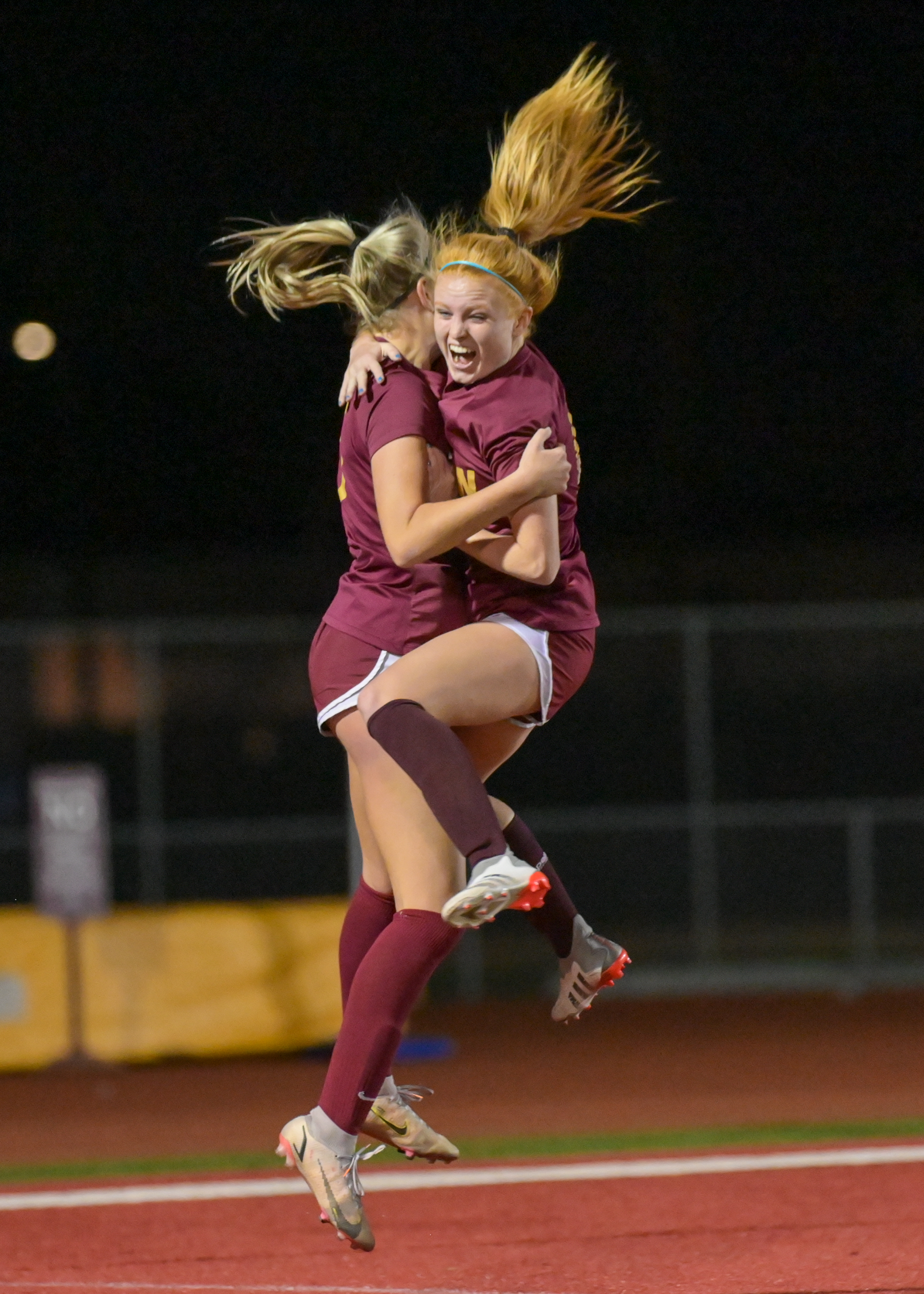 Wilson's first-year coach Brian Irvin made an adjustment in the midfield to try to spark his team's offense, and Cruz has been a huge piece to that decision. There is no doubt that it worked. He moved Cruz up to score the go-ahead goal against Millikan last week, and then dropped her back to defend the rest of the game.
"She's our lead point getter, and she does (the goal scoring) in training, so she has that aspect to her game," Irvin said. "And then I ask her to come back and be defensive to see out the game and she can do that too. She's very versatile."
That versatility got Cruz noticed by the Guam U20 National Team as well. Her grandfather was born and raised in Guam, so Cruz is eligible to represent the country.
In July, she went to a tryout at the Olympic Training Center in Chula Vista. Cruz performed so well that they invited her to represent Guam in a tournament in the Middle East. Because of COVID and other circumstances, the Cruz family decided not to send their daughter overseas, but she could catch on with the national team while she continues her playing career at Saint Mary's College of California in Moraga.
"It's something I never thought would happen but it was an amazing experience," Cruz said. "I thought it would be girls from clubs trying out, but it was native Guam players, so I was able to meet girls from the island, They're really nice. Once you meet them you're automatically in the family."
That comfort in familiarity has defined Cruz's soccer career, and she wants that to continue as long as possible.
"We love watching her play," Matt said. "It's very rewarding. My dad took off work early to make it to my games, so I've tried to do the same for her. It makes my day."
Girls' Soccer: Wilson Beats Millikan, Stays Alive In Title Race