VIDEO: Millikan vs. Lakewood, Football
Visit The562.org for more Long Beach sports coverage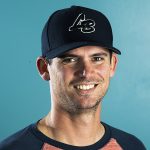 JJ Fiddler
JJ Fiddler is an award-winning sportswriter and videographer who has been covering Southern California sports for multiple newspapers and websites since 2004. After attending Long Beach State and creating the first full sports page at the Union Weekly Newspaper, he has been exclusively covering Long Beach prep sports since 2007.
http://The562.org
Related Articles
Photo courtesy John Fajardo, LBCC All fabric is made in essentially the same way: hundreds of individual threads woven together to make something strong, something whole. A football jersey is made that way. A community is made that way too, or a football team: e pluribus unum. Out of many, one. When a hole is […]
The562's coverage of St. Anthony Football is sponsored in part by Wasco Development Corp in Honor of B.I. Mais. After coming off a gritty 14-12 win against St. Genevieve, the Saints are looking to stay atop the Del Rey League, and hopefully, all but clinch a playoff berth Friday night against Harvard-Westlake. Del Rey is neck-and-neck […]
High School Soccer: Long Beach Poly vs. Wilson Visit The562.org for more Long Beach sports coverage.