VIDEO: Lakewood vs. Mayfair, Football
Visit The562.org for more Long Beach sports coverage.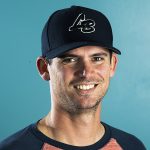 JJ Fiddler
JJ Fiddler is an award-winning sportswriter and videographer who has been covering Southern California sports for multiple newspapers and websites since 2004. After attending Long Beach State and creating the first full sports page at the Union Weekly Newspaper, he has been exclusively covering Long Beach prep sports since 2007.
http://The562.org
Related Articles
Now in year three under head coach Romeo Pellum, the arrow is still pointing up for the Millikan football program. While the Rams remain inexperienced in several spots, they'll have some exciting top-end talent all over the field, as Pellum's vision begins to take shape.  The shortened season earlier this spring showed glimpses of what […]
High School Softball: Long Beach Wilson vs. Lakewood Visit The562.org to subscribe and support local sports coverage.
This is the third consecutive season that the Cabrillo and Bellflower are starting the season against each other. The Jaguars are hosting the Buccaneers tonight at 7 p.m. In 2016, Cabrillo looked dominant in a 19-0 victory. Last year, Bellflower got some revenge at home with a dramatic 22-19 win. The game is coming back […]