VIDEO: Millikan vs. Jordan, Boys' Soccer
Visit https://www.the562.org/ for more Long Beach sports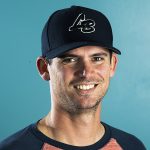 JJ Fiddler
JJ Fiddler is an award-winning sportswriter and videographer who has been covering Southern California sports for multiple newspapers and websites since 2004. After attending Long Beach State and creating the first full sports page at the Union Weekly Newspaper, he has been exclusively covering Long Beach prep sports since 2007.
http://The562.org
Related Articles
STORY AND VIDEO BY MATT SIMON Heading into Friday's Moore League showdown at Ron Palmer Pavilion, Long Beach Poly and Millikan both came into the contest boasting impressive accomplishments midway through the season. Long Beach Poly sat on top of the CIF Division 1 polls, while Millikan was undefeated and No. 3 in the Division […]
A few last-minute goals helped Long Beach State women's soccer stay in the hunt for the Big West Conference championship, but a last-minute goal proved to be their undoing on the last day of the regular season. The Beach (9-7-2, 6-3-1) scored first on Sunday at George Allen Field only to see UC Santa Barbara […]
High School Baseball: Long Beach Poly vs. Wilson Please visit The562.org to subscribe and support local sports coverage.