VIDEO: Wilson vs. Millikan, Boys' Soccer
Visit https://www.the562.org/ for more Long Beach sports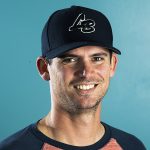 JJ Fiddler
JJ Fiddler is an award-winning sportswriter and videographer who has been covering Southern California sports for multiple newspapers and websites since 2004. After attending Long Beach State and creating the first full sports page at the Union Weekly Newspaper, he has been exclusively covering Long Beach prep sports since 2007.
http://The562.org
Related Articles
This week we have an extended conversation with local volleyball coach Carlos Briceno. As a player he won the Bronze Medal with Team USA at the Barcelona Olympics, and as a coach he's led some really good teams at Mizuno and Wilson for more than a decade. We're talk to him about everything from the […]
Millikan took down El Clásico rival Cabrillo 3-0 at home on Thursday. The Rams got goals from Danny Gutierrez, Jesus Moreno and Isaac Chavez while Anton Moore chipped in a pair of assists. Goalkeeper Michael Schoen collected his third Moore League clean sheet. Lakewood 2, Compton 0 The Lancers and goalkeeper Lewis Blanton earned another […]
Photos from our guys at All-In Press, Art O'Neill and John Napalan.