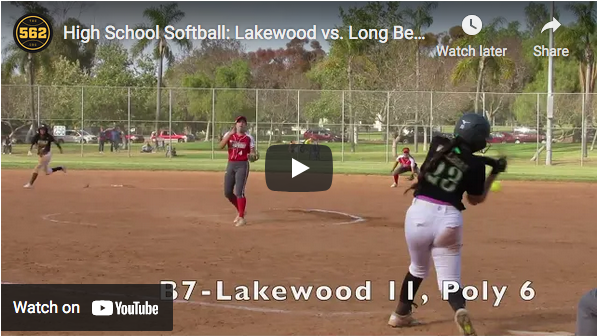 VIDEO: Lakewood vs. Long Beach Poly Softball
Visit https://www.the562.org/ for more Long Beach sports.
Matt Simon
Matt Simon has been covering sports since 2013. After graduating from Long Beach State, he has covered sports for multiple publications throughout Southern California.
http://the562.org
Related Articles
The Millikan softball program celebrated opening day on Friday by cutting the ribbon on their new field before hosting Torrance. The Rams also honored Diane Lewis and current coach Akemi Fleming who led Millikan to CIF championships in 1983 and 2005. Photos Courtesy Millikan Softball Boosters
It's opening day for Moore League softball and we'll be at the two marquee games as Long Beach Poly visits Millikan and Lakewood travels to Wilson. Both games are scheduled for 3:15 p.m. start. Follow along for live score updates and check back later tonight for coverage of the games! Click here if you can't […]
The562's coverage of football in 2023-24 is sponsored in part by the MemorialCare Long Beach Medical Center Foundation and Miller Children's and Women's Hospital Foundation. The562's coverage of Long Beach Poly is sponsored by Bryson Financial The562's coverage of Millikan athletics in the 2023-24 school year is sponsored by Curtis Boyer.