VIDEO: Millikan vs. Wilson, Football
Visit https://www.the562.org/ for more Long Beach sports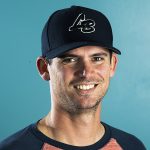 JJ Fiddler
JJ Fiddler is an award-winning sportswriter and videographer who has been covering Southern California sports for multiple newspapers and websites since 2004. After attending Long Beach State and creating the first full sports page at the Union Weekly Newspaper, he has been exclusively covering Long Beach prep sports since 2007.
http://The562.org
Related Articles
Wilson looked like a new team while sweeping Long Beach Poly in Moore League girls' volleyball action on Tuesday 25-15, 25-21, 25-21. The Bruins used superior service and defense to dominate the visiting Jackrabbits and leap into second place in the league standings. "That's a big confidence booster for the girls," Wilson coach Gerald Aquiningoc […]
The562's coverage of Lakewood Athletics is sponsored by J.P. Crawford, Class of 2013.
The Wilson Bruins have won the last 12 Moore League championships and are poised to repeat with a strong sophomore class leading the way. However, players like Zac Crenshaw, Hank Rivers and Gray Carson learned on the job last year while taking their lumps. Some tough losses and no playoff success dropped Wilson down to […]