VIDEO: Long Beach Poly vs. Millikan, Boys' Water Polo
Visit https://www.the562.org/ for more Long Beach sports coverage.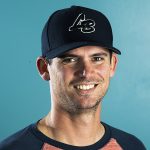 JJ Fiddler
JJ Fiddler is an award-winning sportswriter and videographer who has been covering Southern California sports for multiple newspapers and websites since 2004. After attending Long Beach State and creating the first full sports page at the Union Weekly Newspaper, he has been exclusively covering Long Beach prep sports since 2007.
http://The562.org
Related Articles
Wilson and Millikan beating Lakewood for the first time since 2012 made for a memorable and historic Moore League regular season. Whether that and shifts in CIF Southern Section playoff equity translates into a successful postseason, something the local teams haven't had in years, remains to be seen. All first-round games are scheduled for 3 […]
John Ross III Foundation Celebrity Football Game Uploaded by The562.org on 2018-07-01.
All of The562's water polo coverage for the 2021-22 school year is sponsored by Aqualand. Visit AqualandOfTheFree.com to learn more. CIF Boys' Water Polo: Long Beach Wilson vs. Damien Visit The562.org for more Long Beach sports