A four-year-old Jocelyn Bonney sat along Ocean Boulevard watching her mom, Ann, competing in the Long Beach Triathlon. Eight years later, Jocelyn began training for triathlons herself, embarking on a journey that's taken her around the world–and one she hopes will eventually bring her right back home.
Jocelyn Bonney began her athletic career playing water polo for Shore Aquatics and soccer for Greater Long Beach Soccer Club, but a broken wrist at age 12 caused her to change course. No longer able to compete in those team sports, Jocelyn tagged along with her parents to a local triathlon training group called TRIBE. She would eventually compete in a few kids' triathlons and fell in love with the sport.
"It actually happened organically," Ann Bonney recalled. "At first it was challenging. She was a swimmer at the Long Beach Yacht Club, so she had that down, but biking was new to her and she wasn't really a runner. But we realized she's got a natural skill for running. She just started getting really involved in it and going to local races. It was a great family experience, as well as fun for her."
Jocelyn pursued her talents, and found success in her new sport. After graduating from St. Anthony High School, Bonney attended Queens University of Charlotte in North Carolina, where she competed as a triathlete for the Royals.
But college wasn't the finish line for Jocelyn Bonney. Not by a long shot. Now at age 22, Bonney is training full-time as a triathlete, alternating between the Olympic Training Center in Park City, Utah, and her hometown of Long Beach.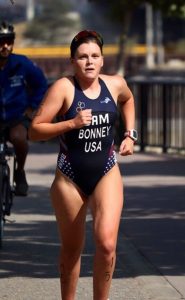 "It's an incredible way of life," Bonney stated. "Through triathlon, I've been able to travel the world with my friends representing the USA. When you're at the starting line and you have 'USA' on your chest, there's such a sense of pride in that."
While Olympic aspirations are not uncommon among high-level athletes, Bonney's is certainly unique. In the sport of triathlon, it takes years for athletes to build up their aerobic base and reach their physical peak in the sport, which usually comes around age 30. Bonney will turn 30 in 2028, the same year that Los Angeles–and Long Beach–will host the Olympic Games.
"My first triathlon was the Long Beach Triathlon and it will be almost the exact same course as the Olympics," Bonney recalled. "Looking back on it, it's crazy to think about."
In order to reach that goal, Bonney has dedicated herself to training, and her focus and determination is what sets her apart. Two years ago, at age 20, she experienced a sudden five-inch growth spurt. In many sports, that would be an unexpected blessing. But for Bonney, she had to adjust to competing in a brand new body, and suffered a number of nagging injuries because of it.
"I went from an elite level runner to tripping over my feet in track practice," she explained. "It was a huge setback for me."
According to Wes Johnson, who coaches Bonney in Utah, her determination and focus is what sets her apart and makes her a special athlete.
"She had to learn how to use a new body in a short amount of time and she's had such a good perspective throughout those trials and she really saw the bigger picture," Johnson said. "She's been a good example of keeping perspective and not rushing the process. She's just relentless in her day-to-day motivation as an athlete, rather than getting so hung up on results."
Her training days start with a 4:30 a.m. wake-up and a strict 6 a.m. start time for practice. A typical day has four different training sessions, with two in the morning, followed by five hours of recovery time before more training in the afternoon. In between training sessions, Bonney tries to sneak in a nap, but also spends time studying. In addition to her rigorous training schedule, she's also taking college courses through Arizona State University's online program, working towards a degree in nutrition. That means sneaking in assignments at 4 a.m., or even completing her final exam on a beach in Costa Rica.
"I just love the process," she admitted. "There's days my alarm goes off at 4:30 and all I want to do is roll over. But I love the daily training. I couldn't imagine my life without this."
When asked where that level of commitment and dedication comes from, Jocelyn mentioned her older brother, Jason, who was the starting quarterback on the Wilson High football team. One of Jason's best friends on the team was wide receiver Zimari Manning, who had a prolific college career and earlier this year spent time with the Denver Broncos as an undrafted free agent.
"I remember on Saturday mornings after Jason and Zimari would play, they would wake up and could barely walk. They were destroyed," Jocelyn recalled. "But they would go to film in the morning, then go to Marina Vista Park to work on perfecting their game. Now Zimari is one of the best in the world at what he does. I learned at a young age, that's what sport is. You have to perfect what you do."
"As a family, we saw she had this love, this passion, this drive," Ann Bonney said of her daughter. "When you see your child have that, you have to encourage it. Whatever it is she put her mind to, she would absolutely work at it until she accomplished it. Whether it was easy or not, whether she was the best or not, she always put 110 percent into it."
Jocelyn Bonney continues to put the work in every day, hoping that after 26 years, she'll be able to return to that same stretch of Ocean Boulevard as a competitor on the world's biggest stage, with her family watching her this time.
"It's all going to be worth it if I can get to that starting line in eight years," she said. "And even if I don't, all the experiences and lessons that I've learned along the way will be with me for a lifetime. I've learned so much about life through sport. It's a different lifestyle, but I wouldn't trade it for the world."
For those interested in assisting Bonney on her Olympic journey, either through donations or corporate partnerships, contact Jocelyn directly at jocelynbonney@gmail.com.