Ricky Tiedemann should be on a bus somewhere. In a normal year, he would be–toiling away somewhere in the minor leagues, in some rookie program. This, of course, is not a normal year. Tiedemann was ranked in the top 90 on MLB.com's prospects ahead of this year's draft, but was not selected in the abbreviated five-round 2020 MLB Draft.
Tiedemann had signed a scholarship with San Diego State, but enrolling there would mean he has to wait three years before he's draft eligible again. So instead, the Lakewood grad will bring his mid-90s fastball to Long Beach City College, where he will be one of the most talented junior college players in America in 2021.
"I've never heard of or seen a situation like mine," said Tiedemann with a laugh. "It's weird, but at the same time I know next year it'll be undebatable instead of iffy. I have faith in myself performing well this year, so I'm betting on myself."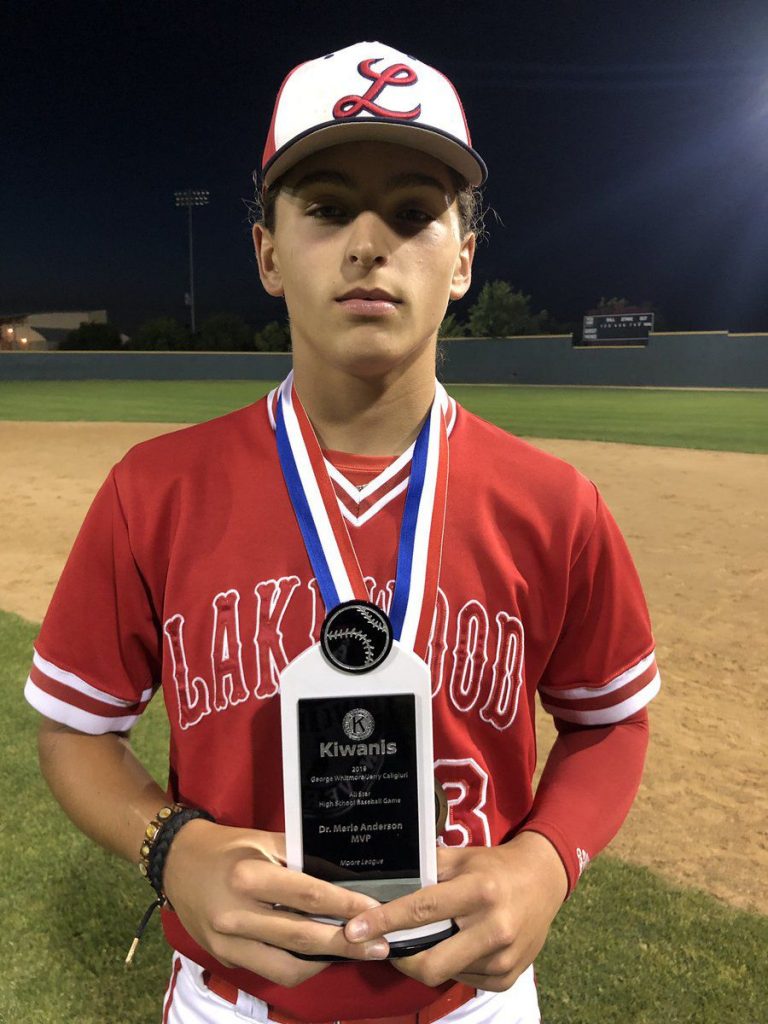 Tiedemann got cut in two different directions by the strange 2020 MLB Draft. For one, the league wasn't sure at that point that it would be playing this season, which had owners concerned about spending money in the Draft. Many players were signed at significantly under their "slot" value, the pre-arranged agreement between the MLB and MLBPA about what a signing bonus should be for each pick. At the same time as owners were shy about spending, front office people also wanted players with as much history and data as possible, to reduce the likelihood of a bust pick in such a short draft.
Both philosophies hurt Tiedemann, a player whose stock has risen sharply recently and a player who did not want to sign a heavily discounted deal.
"I get that they wanted guys with lots of data and stats and history," he said. "I didn't even get to play my senior year of high school–so they banked on past seasons and I didn't have that much behind me."
Tiedemann's older brother, Tai, has been in the minor leagues the last few years, which means that Ricky was well aware of the significance of getting a good signing bonus.
"It was good having Tai around because I knew what a grind it is, and how important it is to start off right," he said. 
Tiedemann said he had two teams reach out and say they were planning on drafting him, both of whom ended up drafting college players and signing them at well below the slot number. 
That left Tiedemann in an awkward position–he could fulfill his NCAA commitment and play at San Diego State, with the knowledge that he'd be on the shelf as far as professional baseball for three years, or he could pitch for a year at junior college.
"I feel like I'm ready for the professional level and so that's why I made the decision," said Ricky. "I've been pitching in showcases the last month and my velocity is up to 95 every outing, I'm feeling good and healthy and I'm excited for 2021."
Once he decided he was going the JC route, he said it didn't take him long to pick LBCC. Tai played there, and the school is a brief jog away from the Tiedemann household.
"I didn't want to go out of state, I didn't see a benefit to that," he said. "I'm comfortable with LBCC, I already know what to expect there, and I know that the scouts will be there when I pitch. I want to put on a show."