A lot of college baseball eyes will be on Bohl Diamond at Blair Field this weekend as No. 25 Long Beach State welcomes No. 6 Mississippi State.
The series starts at 6 p.m. tonight with lefty Adam Seminaris taking the mound for the Dirtbags and righty Carlisle Koestler going for the Bulldogs. It continues at 3 p.m. on Saturday, and concludes at 11 a.m. on Sunday.
"That's why I'm here," first-year coach Eric Valenzuela said. "I wanted to come here and be part of playing teams like this on a big stage. It's got to be one of, if not the biggest series of the weekend in the country. I'm gong to do my best to not let these guys get ahead of themselves."
The Dirtbags (6-2) have won four consecutive games and are off to their best start since 2008 when they hosted an NCAA Regional.
"We just have to keep doing what we're doing," right fielder Calvin Estrada (above) said. "We have to keep the energy up and trust our system and we should be fine."
That offensive system is a complex one taught by associate head coach Bryan Peters, and the keys are adjustments on a player-by-player basis.
"There's never a swing without a purpose in our program," Peters said. "We put in all of that stuff in the fall. Once they really get it, individually and as a team, we have a simplified approach. We give them an intense, hyperfocus so they know exactly what their job is and what they want to get done."
The Dirtbags have a .360 on-base percentage as a team, and nine key players are hitting over .300 this season. LBSU is outscoring opponents 42-21, with an impressive 74-50 advantage in hits.
"It was a whole new system thrown at us and we all had to adapt," Estrada said. "It's not so much my swing, per say, but more how I'm trying to manipulate the baseball."
The 6'1" 225-pound Estrada is hitting leadoff for LBSU and has a team-high 11 hits, six RBIs and four doubles.
"He's a constant threat," Peters said of Estrada. "A power and speed combination like Calvin, you want that guy to come to the plate as often as possible."
"It's definitely different," Estrada said of leading off after years of trying to produce runs in the middle of lineups. "My job is to get on base and find a way to score. I'm just trying to do my job. I love it. I get so many fastballs."
Redshirt freshman Connor Kokx and redshirt sophomore Leonard "LJ" Jones are also off to a hot starts. Jones (below) hit an opposite field home run on Tuesday. Kokx in an impressive center fielder who has nine hits in 19 at bats.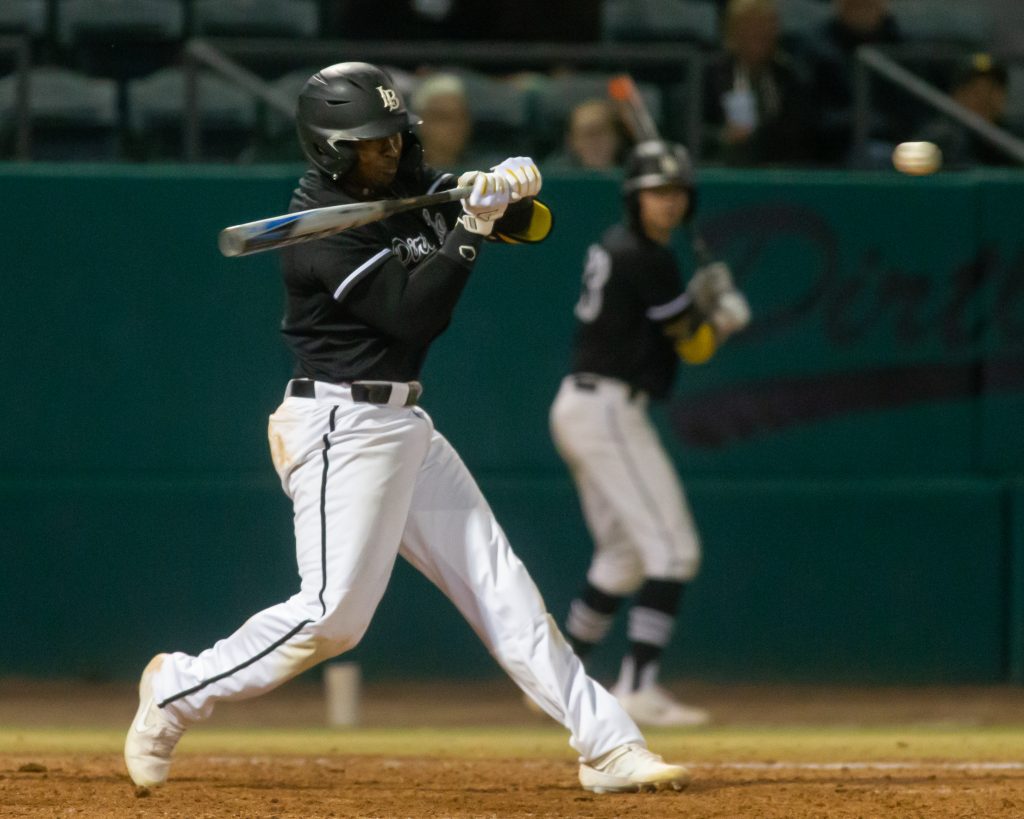 "These young guys are stepping up and aren't scared of these ranked opponents," Estrada said after LBSU swept No. 17 Wake Forest. "They're trained and ready to go."
"Peters is one of the best offensive coaches in the country, and these guys have bought in," Valenzuela said. "It doesn't matter if we're first and second with no body out. Everyone is expecting us to bunt, and he lets them swing away. It's already an offensive-minded group, they have a good thing going and it's making us all look really good."
The Dirtbags pitching staff has also looked very good with a 1.66 ERA and 81 strikeouts in 76 innings. Saturday starter Alfredo Ruiz (2-0) hasn't given up a run in 14 innings. The sophomore lefty was named National Collegiate Baseball Writers Association (NCBWA) National Pitcher of the Week after his 10-strikeout season debut against Cal.
Seminaris (below) didn't pitch last weekend, but tossed a clean ninth inning on Tuesday.
Estrada said the impressive all-around performance by the Dirtbags so far is a byproduct of the positive vibes from Valenzuela's staff.
"It's the type of energy they bring," Estrada said. "Everyone really bought into it completely. We all have good trust. We're not looking back at last year."
"I respect everybody that has been here before, but we're never going to talk about the past," Valenzuela said of the last two seasons. "We really emphasize on the player and getting him right and then playing good baseball. That's all we've done. They're good players. This is Long Beach State, man. You're one of the best players in the country if you put this uniform on, so it's not the talent. As you can see. We just have a positive environment, we work hard and these guys grinded."
Mississippi State (6-2) has lost two of its last three games after an undefeated start. All-American second baseman Justin Foscue leads his team with 13 RBIs, three doubles and a home run.