VIDEO: St. Anthony vs. Newport Harbor, CIF Football
Visit The562.org for more Long Beach sports coverage.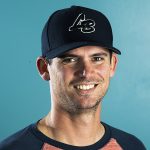 JJ Fiddler
JJ Fiddler is an award-winning sportswriter and videographer who has been covering Southern California sports for multiple newspapers and websites since 2004. After attending Long Beach State and creating the first full sports page at the Union Weekly Newspaper, he has been exclusively covering Long Beach prep sports since 2007.
http://The562.org
Related Articles
This week on the show we're talking about championships all over the city from the swimming pool to the baseball diamond and beyond. 02:00 The best things we've seen this week 14:00 Long Beach Poly baseball wins back-to-back league titles 25:00 Moore League swimming making history 36:30 Millikan boys' tennis hosting CIF championship 39:15 St. […]
After navigating a lifetime's worth of troubled waters, the Long Beach high school football season is ready to set sail in 2021. It's been two years since the Fall approached with any sense of a normal schedule, and local players, coaches, and fans couldn't be more excited for the prospect of Friday night lights in […]
The562's coverage of Saints athletics is sponsored in part by St. Anthony High School.