VIDEO: Long Beach State Men's Volleyball Wins National Championship
Visit The562.org for more Long Beach sports coverage.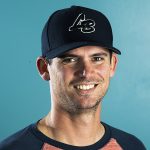 JJ Fiddler
JJ Fiddler is an award-winning sportswriter and videographer who has been covering Southern California sports for multiple newspapers and websites since 2004. After attending Long Beach State and creating the first full sports page at the Union Weekly Newspaper, he has been exclusively covering Long Beach prep sports since 2007.
http://The562.org
Related Articles
We're taking a trip around Long Beach to talk with some of the coaches and players who are making news this week. 00:30 Millikan boys' basketball 11:00 Wilson boys' soccer 21:30 Long Beach State Dirtbags 26:30 Long Beach State men's basketball 29:10 Super Bowl Security Guard tells his story Support The562.org
On the court, Long Beach State senior Kyle Ensing can do anything. The 6'7" opposite hitter can serve, block, pass, and attack as well as anybody, a skill set so complete he's already a two-time All-American who's been recognized as the best player in the country at his position. Off the court? There are a […]
NCAA Baseball: Long Beach State Dirtbags vs. Mississippi State Visit The562.org for more local sports coverage.