PHOTOS: Compton vs. Millikan, Boys' Basketball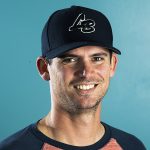 JJ Fiddler
JJ Fiddler is an award-winning sportswriter and videographer who has been covering Southern California sports for multiple newspapers and websites since 2004. After attending Long Beach State and creating the first full sports page at the Union Weekly Newspaper, he has been exclusively covering Long Beach prep sports since 2007.
http://The562.org
Related Articles
This week on the show Mike and JJ are talking about the best Long Beach sports events on the calendar and what they did on their holiday break. 02:30 Question O' The Week: How was your holiday break? 06:20 Athletes O' The Week 11:40 Game O' The Week: Moore League "Classico" Millikan vs. Cabrillo Boys' […]
Pitchers decided Long Beach State softball's doubleheader against Loyola Marymount at home on Saturday. The Beach (13-16) bounced back from a 3-0 loss in the first game with an 8-0 (5 innings) win over the Lions behind a no-hitter from Ashley Coleman. She only put one runner with a fourth-inning walk, and has allowed six […]
Here are some great action shots of the drifting at the Acura Grand Prix of Long Beach today from our own Joseph Kling.