PHOTOS: Long Beach State vs. UCSB, Women's Soccer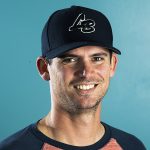 JJ Fiddler
JJ Fiddler is an award-winning sportswriter and videographer who has been covering Southern California sports for multiple newspapers and websites since 2004. After attending Long Beach State and creating the first full sports page at the Union Weekly Newspaper, he has been exclusively covering Long Beach prep sports since 2007.
http://The562.org
Related Articles
High School Boys' Soccer: Millikan vs. Cabrillo Cabrillo hosted rivals Millikan in their Moore League opener for the 2021-22 season.For more coverage of all Long Beach sports, head to www.The562.org. We ar… Support The562.org
We've got a mega gallery of the Long Beach kids in action at this weekend's California Relays from John Napalan and Art O'Neill of All-In Press.
A big first half was enough to carry Long Beach State men's basketball to an 82-80 win at Cal State Fullerton tonight. The Beach led for most of the game, and the victory snapped a six-game losing streak against the Titans. LBSU (3-3, 2-1) shot over 50 percent from the floor on the night and […]