VIDEO: Lakewood vs. Buena, CIF Softball
Please visit The562.org to subscribe and support local sports coverage.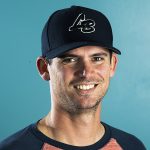 JJ Fiddler
JJ Fiddler is an award-winning sportswriter and videographer who has been covering Southern California sports for multiple newspapers and websites since 2004. After attending Long Beach State and creating the first full sports page at the Union Weekly Newspaper, he has been exclusively covering Long Beach prep sports since 2007.
http://The562.org
Related Articles
High School Softball: Long Beach Poly vs. Wilson Please visit The562.org to subscribe and support Long Beach sports coverage.
We've got some great photos of the Moore League cross country meet from photographer John Napalan of All-In Press.
This week we're talking about new looks for both Long Beach State basketball teams (01:30) the latest honors for Long Beach State women's soccer (07:10) CIF-SS Football, Boys' Water Polo and Girls' Tennis playoff previews (09:50) an 'Either, or…' segment with Title IX (18:20) plus much more.