VIDEO: Lakewood vs. Orange Vista, Football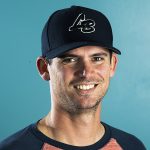 JJ Fiddler
JJ Fiddler is an award-winning sportswriter and videographer who has been covering Southern California sports for multiple newspapers and websites since 2004. After attending Long Beach State and creating the first full sports page at the Union Weekly Newspaper, he has been exclusively covering Long Beach prep sports since 2007.
http://The562.org
Related Articles
Lakewood football returned to the CIF Southern Section playoffs with a bang on Friday night. After taking a lead in the second half, the Lancers were able to stop a two-point conversion in the final minutes to hold on for a 35-34 win at Brea Olinda in Division 9 action. The first playoff win for […]
WCA Club Football: Team Grind vs TTP Highlights from Team Grind against TTP from January 16, 2021 in Chino.For more coverage of all Long Beach sports, head to www.The562.org. We are a non-profit… Support The562.org
The562's standings, schedule, and rankings stories are sponsored by International City Plumbers. Here's where things stand after four weeks of high school football season in Long Beach.