VIDEO: Lakewood vs. Millikan, Moore League Softball
Visit The562.org for more Long Beach sports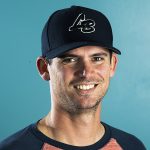 JJ Fiddler
JJ Fiddler is an award-winning sportswriter and videographer who has been covering Southern California sports for multiple newspapers and websites since 2004. After attending Long Beach State and creating the first full sports page at the Union Weekly Newspaper, he has been exclusively covering Long Beach prep sports since 2007.
http://The562.org
Related Articles
The Long Beach Century Club hosted its 30th annual Middle School Awards Banquet at The Grand on Tuesday. VIDEO BY JULIAN LOPEZ Long Beach Middle School All City Awards Banquet 2018 Visit the562.org to support local journalism. PHOTOS BY STEPHEN DACHMAN
Friday night brings a big Moore League boys' soccer showdown between Poly and Millikan. Plus, Millikan is hosting Poly in a key girls' basketball game and Jordan is hosting Lakewood in boys' basketball in a battle for second place. We'll also have updates from Long Beach State men's volleyball hosting Ohio State at Walter Pyramid. […]
High School Soccer: Long Beach Millikan vs. Jordan Visit https://www.the562.org/ for more Long Beach sports.