VIDEO: Millikan vs. Long Beach Poly, Girls' Soccer
Visit The562.org for more Long Beach sports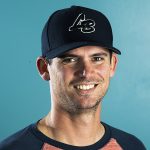 JJ Fiddler
JJ Fiddler is an award-winning sportswriter and videographer who has been covering Southern California sports for multiple newspapers and websites since 2004. After attending Long Beach State and creating the first full sports page at the Union Weekly Newspaper, he has been exclusively covering Long Beach prep sports since 2007.
http://The562.org
Related Articles
Monday evening's match-up came down to the wire between Millikan and Wilson, but the visiting Rams had just enough to hold off the Bruins for their first Moore League boys' lacrosse win of the season. Millikan didn't score in the final period, but held on for an exciting 7-6 victory on the road. The Rams […]
High School Girls' Basketball: Long Beach Poly vs. Millikan Visit the562.org and click SUBSCRIBE to support local sports coverage.
Long Beach Poly hosts Leuzinger tonight at 7 p.m. at Cabrillo High, in a game that was originally scheduled to be the Jackrabbits' first of the season, but had to be moved due to COVID-19 protocols. Tonight's game sees a Poly team at 0-2 and in search of their first win, in a very different […]