VIDEO: Jordan vs. Granite Hills, CIF Football
For full coverage visit the562.org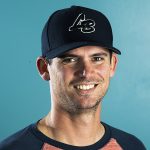 JJ Fiddler
JJ Fiddler is an award-winning sportswriter and videographer who has been covering Southern California sports for multiple newspapers and websites since 2004. After attending Long Beach State and creating the first full sports page at the Union Weekly Newspaper, he has been exclusively covering Long Beach prep sports since 2007.
http://The562.org
Related Articles
Wilson cruised to a 46-12 win at Jordan on Friday night in Moore League action. The Bruins (7-1, 3-1) got five touchdown passes from quarterback Ryan Pettway. The senior found Clint Stephens for a pair of scores and also threw touchdowns to Wesley Easter, Tyler Mort and Tyrie Robinson. Wilson linebacker Logan Ziegenhagen returned a […]
We've got some great photos of the close game from photographer Art O'Neill.
The Compton football program is trying to control what it can control amidst upheaval this year. Compton's campus is under massive construction, so the entire school has relocated to Roosevelt Middle School down the street. "We're trying to fight through it," coach Calvin Bryant said. "We're just trying to get things organized and put into […]