VIDEO: St. Anthony vs. Salesian, Football
Visit https://www.the562.org/ for more Long Beach sports.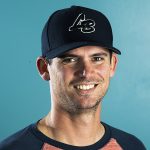 JJ Fiddler
JJ Fiddler is an award-winning sportswriter and videographer who has been covering Southern California sports for multiple newspapers and websites since 2004. After attending Long Beach State and creating the first full sports page at the Union Weekly Newspaper, he has been exclusively covering Long Beach prep sports since 2007.
http://The562.org
Related Articles
Find out where and when your favorite football team is playing this week. Avalon @ Calvary Chapel (Sat. 11 a.m.) Compton @ Cabrillo Long Beach Poly @ Lakewood Wilson @ Millikan St. Anthony vs. St. Paul LBCC vs. Bakersfield (Sat. 5 p.m.) BYE: Jordan
A promising start turned sour for Lakewood in its home opener on Thursday night at Veterans Memorial Stadium. The Lancers scored on their opening drive, and only trailed by eight points in the third quarter, but visiting North Torrance scored the last 27 points of the game on its way to a 48-13 victory. North […]
Club Football: Long Beach Grind vs. Winners Circle Athletics Visit https://www.the562.org/ for more Long Beach sports coverage.