King Park on the Eastside of Long Beach has been a starting point for several of the city's most accomplished athletes. Jurrell Casey spent his childhood at the Boys & Girls Club located at King Park, going on to a prolific football career at Long Beach Poly, USC, and now a decade spent in the NFL. The five-time Pro Bowler with the Tennessee Titans is now in his first season with the Denver Broncos, but he's never shifted his focus away from Long Beach, and is committed to giving back to the youth in his old neighborhood.
"It's my hometown and it's a tough time right now with COVID and everything going on," Casey said. "People are in need right now, and it's our job in the position that we're in to make sure we're helping people get the resources they need."
Jurrell's foundation, The Casey Fund, is hosting "Free Lunch Saturdays" to provide a free meal to any child who is a member of the Boys & Girls Club or has a valid LBUSD student ID card. The meals are being offered on the first and third Saturday of each month through the end of 2020, with plans for more to follow. One of Casey's childhood friends, Will Miller, handles the operations of The Casey Fund and is organizing the events with the help Jurrell's family.
"One of the main things about giving back to this community is that we're from this community," Miller explained. "We went to Long Beach Poly, we went to Mary Butler. With Jurrell being in the position he is, it's really important to come back and do something outside of football. That's something Jurrell and his wife Ryann are really big on, and that's giving back to our community."
Over the years, Casey has held free football camps for kids in Long Beach, along with backpack giveaways and efforts to feed the homeless. Miller said that he and Casey were inspired by predecessors like Marcedes Lewis, another Poly football star who is now with the Green Bay Packers in his 15th NFL season. Lewis started his free football camp back in 2009, and helped lay the groundwork for future Long Beach gridiron stars like Casey, DeSean Jackson, John Ross III, and JuJu Smith-Schuster to follow suit with camps of their own.
Miller hopes that by organizing events like lunch giveaways for kids, that The Casey Fund can inspire other Long Beach athletes that are in a position to give back to follow suit. While Casey is prepared to cover the costs for the first and third Saturdays for the rest of the year, the plan is to motivate fellow athletes to join him and fund the remainder of the Saturdays.
"I hope those guys see what we're doing and say 'Ok, Jurrell was the kickstart, but we can do that too,'" Miller explained. "When I was coming here, we didn't have Free Lunch Saturdays. We didn't even have football camps. So the fact that this new generation is stepping up and having camps that are affordable to these kids is amazing, because we didn't have that growing up."
On the first Free Lunch Saturday, Jose Jimenez and his team from Panini Kabob Grill, which has two locations in Long Beach, supplied freshly-prepared lunch plates from kids in the community. Miller said that Panini Kabob Grill was scheduled for more Saturdays this year, but that other local restaurants would be brought in as well.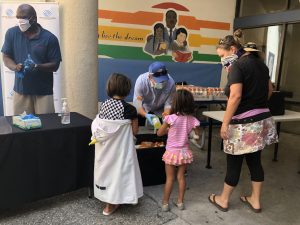 Once the food was prepped and ready, Miller joined Jurrell's mom, Collette Burns, in handing out to-go containers of grilled chicken, rice and veggies, while the Boys & Girls Club staff offered up ice-cold Gatorade. Burns, along with Jurrell's sisters NaKiao and Kemellah Powell, are all involved in The Casey Fund events, helping make a difference at home while Jurrell is busy dominating in the NFL.
"There's a lot that Jurrell is doing, and I always told my son to keep it in the community, because it could be us," Burns said. "You never know, it could be one of our family members that need the help we're giving right now today. I just thank God that Jurrell and Ryann are able to do this and that we're able to help these kids."
The next Free Lunch Saturday will take place this weekend, Oct. 3, back at the Boys & Girls Club at King Park. Lunch will be available from 11:00 – 1:00 p.m. More information on the organization is available at TheCaseyFund.org.