VIDEO: Long Beach State vs. San Diego, NCAA Basketball
Visit The562.org for more Long Beach sports coverage.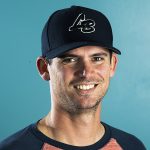 JJ Fiddler
JJ Fiddler is an award-winning sportswriter and videographer who has been covering Southern California sports for multiple newspapers and websites since 2004. After attending Long Beach State and creating the first full sports page at the Union Weekly Newspaper, he has been exclusively covering Long Beach prep sports since 2007.
http://The562.org
Related Articles
With the regular season winding down, The Compton boys basketball team is starting to catch its stride at just the right time. After a big win against Long Beach Poly on Monday, the Tarbabes took care of business at Wilson defeating the Bruins 76-51 Wednesday night. Compton (17-9, 7-3) was once again led by phenomenal […]
NCAA Men's Volleyball: Long Beach State vs. Penn State No. 3 Long Beach State hosted No. 4 Penn State in a big early-season showdown in Long Beach.For more coverage of all Long Beach sports, head to www.The562.or… Support The562.org
Congratulations to this year's All-Moore League honorees, as voted on by the coaches.