VIDEO: Compton vs. Millikan, Football
Visit The562.org for more Long Beach sports coverage.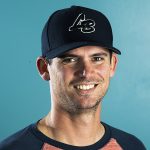 JJ Fiddler
JJ Fiddler is an award-winning sportswriter and videographer who has been covering Southern California sports for multiple newspapers and websites since 2004. After attending Long Beach State and creating the first full sports page at the Union Weekly Newspaper, he has been exclusively covering Long Beach prep sports since 2007.
http://The562.org
Related Articles
STORY BY JULIAN LOPEZ Wilson head coach Eric Berg was doing laps in the pool while his team was celebrating. It was yet another Moore League boys swim championship for the Bruins as they finished atop the standings with 478 points and were followed by Poly with 386 at Cabrillo High School on Friday. The […]
The562's coverage of Millikan athletics in the 2023-24 school year is sponsored by Curtis Boyer. Special thanks to Chris Trevino for additional video footage.
With this week's scheduled CIF Southern Section championships canceled due to the COVID-19 pandemic, there will officially be a blank line across the record books. Before we close the book on 2019-20, we wanted to take a look at a few of the league and CIF-SS/State championships we expected to be covering this May–just because […]