Sone Aupiu is a reverent young man who runs like a bull set loose in Pamplona.
The St. Anthony sophomore is a member of both the Catholic and the Mormon churches who teammates and coaches consider to be a quiet kid. But when he gets the football in his hands, Aupiu is one of the hardest players to tackle in Long Beach.
"He's a pretty special kid," St. Anthony coach Mario Morales said. "I saw him running around as a freshman and he was already pretty athletic. He started at wide receiver as a freshman because we just needed to find a place for him on the field. He was a scrawny little guy and this year he's bigger, stronger and faster. He's made a smooth transition to running back."
Aupiu scored two touchdowns as a freshman and has scored three times in four games this season while gaining 412 all-purpose yards. He is averaging 8.5 yards per touch. The Saints and Aupiu are looking to put up more big offensive numbers this week when they travel to face St. Pius X-St. Matthias Academy in Downey.
"Yes I'm surprised at my early success," Aupiu said. "I didn't think I'd score this many touchdowns so early. I just never thought about it. I don't think of myself as good. I think of myself as average. There are many other All-Stars so I keep myself humble, win or lose."
It's not surprising that a quiet kid from a big religious family can stay humble. Aupiu is the fourth of five children who are being raised in two separate churches by their parents. Helen Pua's family is Catholic, and Ah-yau Aupiu's family is Mormon. Sone was baptized in both churches and rotates which service he attends every weekend. After going to Lindbergh Middle School, he even chose St. Anthony because of its faith-based education.
"My faith is really important to me," Aupiu said while noting his favorite Bible verse is Proverbs 3: 5-6 which reads, "Trust in the Lord with all thine heart; and lean not unto thine own understanding. In all thy ways acknowledge him, and he shall direct thy paths."
"My faith is stronger because of going to a religious school," Aupiu said. "It is difficult (to be a member of two churches) because I don't know which one I belong to, or who I'm really faithful to. It can be frustrating trying to figure it out, but my parents and my brothers and my sisters support each other."
Aupiu leads a family prayer before every football game, and says his siblings look up to him when it comes to their faith.
Many football fans watch Aupiu play and wonder why a talent like his would choose such a small school like St. Anthony, but they don't consider that Aupiu just started considering himself an athlete.
"I didn't even know what sports were when I was little," Aupiu said. "I really loved school. My favorite subject is science. I dreamt of being an astronaut, or someone who travels around the world."
Aupiu still loves science, but school doesn't provide an outlet for the typical youthful frustrations of growing up in a big family. He was able to find that on the football and rugby fields that his uncle, Ray Lolesiopua, introduced him to when he was 11.
"Football is my sanctuary," Aupiu said. "Football is where I can take all my anger out. My anger from outside life like school and outside the house. I don't get frustrated easily. But sometimes it bottles up and I take that to the field."
Lolesiopua played rugby in New Zealand, so that's why Aupiu runs like a rugby player. Aupiu also plays for Belmont Shore Rugby Club, and took a picture with his fellow teammates after the St. Anthony and Wilson football game last week. Some of the Bruins also play for Belmont Shore.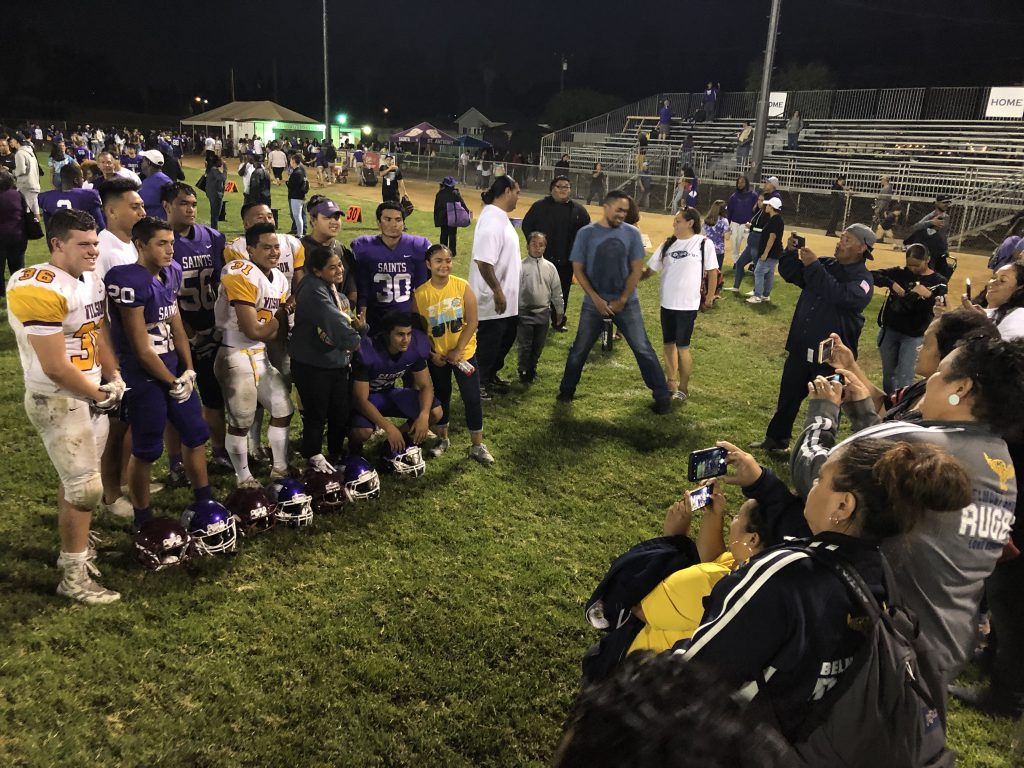 "It's just how I run naturally now," Aupiu said of his rugby style. "I really like the contact. It made sense to me."
Morales said Aupiu's quiet confidence on the field has garnered respect from his teammates.
"He goes about everything he does very business like," Morales said. "A lot of kids look up to him already even though he's an underclassman. His work ethic shows others how to do it the right way."
Aupiu has done all of that without raising his voice or verbally challenging his teammates.
"He doesn't yell at all," Morales said. "He's the type of kid who just shows up, works hard, never complains and just gets the job done in practice or the game."
"We may be thin on the depth chart, but that doesn't mean we're weak," Aupiu said of his team. "We're gonna give everything we've got. It may not be enough, but it will be all of our strength."