VIDEO: Compton Football vs. Compton Centennial
Visit The562.org for more high school sports coverage.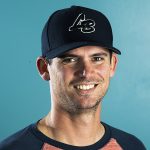 JJ Fiddler
JJ Fiddler is an award-winning sportswriter and videographer who has been covering Southern California sports for multiple newspapers and websites since 2004. After attending Long Beach State and creating the first full sports page at the Union Weekly Newspaper, he has been exclusively covering Long Beach prep sports since 2007.
http://The562.org
Related Articles
Find out where and when your favorite team's game is happening this week and be sure to get out and support them! We'll have previews of every game and live updates on the website on Friday. Avalon @ Rolling Hills Prep Cabrillo vs. Compton Centennial Compton @ Dominguez Jordan @ Norwalk Lakewood vs. Corona del […]
CIF Football Championship: Long Beach Poly vs. St. Francis Long Beach Poly took on St. Francis in the 2021 CIF-SS Division 4 Championship Game.For more coverage of all Long Beach sports, head to www.The562.org. We ar… Support The562.org
High School Soccer: Long Beach Jordan vs. Wilson Visit The562.org for more Long Beach sports coverage.