The Shore Aquatics 10U coed water polo team went undefeated at the Junior Olympics last week to win Shore's second consecutive national championship at this level. They were one of five Shore squads to grab a top finish.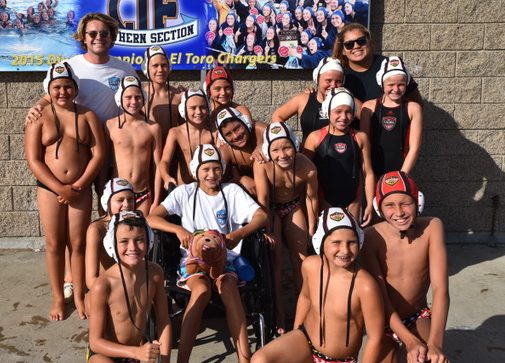 After entering the tournament ranked 26th nationally, the Shore 10U coed team dominated the competition. Goaltender Morgan Crichton was the tournament MVP after he held nationally ranked Vanguard to one goal in the championship game.
The Shore 12U girls finished fifth in the nation after entering the Junior Olympics ranked eighth. This group is coached by current Wilson High girls' water polo coach Barry O'Dea and Long Beach Lifeguards legend Jeff Gillott.
The Shore 14U girls won the Classical Bracket of the Bronze Division after winning a shootout in the final.
The Shore 12U boys were also in the Classical Bracket and took sixth as one of the youngest teams in the Gold Division.
The Shore 14U boys finished 24th in the nation as part of the top Platinum Division despite missing key players due to injury.
READ MORE about Shore Aquatics recent success.
10U Coed: Morgan Crichton, Vaughan Baker, Charlie Dotts, Cole Fullerton, Francesca Garcia, Owen Grabow, Ryder Rafferty, Fernando Rejon, Drew Shelton, Leo Swietlikowski, Nicholas Tramontano, Brooklyn Vega, Eve Webb, Ryan Kephart , Maddox Balladares. Head Coach Zac Polmanteer. Assistant Coaches Chi Kredell, Victoria Vega.
12U Girls: Kendall Donahue, Adriana Alfonso, Petra Aloyian, Jermonie Billingsly, Emily-Elizabeth Cribari, Julia Gillott, Olivia Garcia, Reece Haga, Katherine O'Dea , Ryan Sorensen, Kate Tunnicliff, Francesca Garcia, Lily Nelson, Drew Shelton, Eve Webb. Head Coach Barry O'Dea. Assistant Coach Jeffery Gilliott.
14U Girls: Charlotte Echlin, Annie Aubel, Sarah Kaven, Jaclyn Hahn, Althea Wright, Olivia Byrne, Hannah Szeszulski, Ragan Angeloff, Madeline Mahoney, Deidre Delahanty, Kaya Brown, Claire Slater, Dahlia Archer , Riley Margain, Ava Hunt. Head Coach Elise Ponce. Assistant Coach Jeffrey Gillott.
12U Boys: Morgan Crichton, Emerson Laporta , Dylan Martinez, Fernando Rejon, Elijah Vince, Enzo Brigagliano, Samson Casem, Rafael Chang, Jake Coster , Evan Morisky, Vaughan Baker, Brooklyn Vega, Nicholas Tramontano, Owen Grabow, Charlie Dotts. Head Coach Jennifer Beach. Assistant Coach Victoria Vega.
14U Boys: Dillon Shaw, Emilio Blythe, Andrew Cagney, Charles Pruett, Jonas Wyatt, Holden Mehler, Tyler Haq, Sean Tunnicliff, Wiley Haga. Head Coach Dimitri Lappas. Assistant Coach Ryan Rockenbach.