PHOTOS: Cabrillo vs. Lakewood, Boys' Soccer
Photos By Joseph Kling. READ MORE about this game.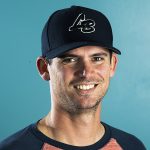 JJ Fiddler
JJ Fiddler is an award-winning sportswriter and videographer who has been covering Southern California sports for multiple newspapers and websites since 2004. After attending Long Beach State and creating the first full sports page at the Union Weekly Newspaper, he has been exclusively covering Long Beach prep sports since 2007.
http://The562.org
Related Articles
We've got a highlight video from the Cabrillo football game. Click the SUBSCRIBE button at the top of the page and sign up to support Long Beach sports coverage. High School Football: Cabrillo vs. San Pedro The Jaguars fell to San Pedro in a tough loss at home. Visit the562.org and click SUBSCRIBE to support […]
The562's coverage of Vikings athletics is sponsored in part by Long Beach City College.
This week we're talking about the upcoming CIF football and boys' water polo bracket that will be released this weekend. We also catch up with Millikan's Jordan Sanders and Wilson's Bobby Hauck to talk about their dedication to their football programs before they do the ceremonial coin toss on Friday night. 28:00 Interview with Millikan's […]