PHOTOS: Long Beach State Women's Soccer vs. SMU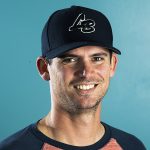 JJ Fiddler
JJ Fiddler is an award-winning sportswriter and videographer who has been covering Southern California sports for multiple newspapers and websites since 2004. After attending Long Beach State and creating the first full sports page at the Union Weekly Newspaper, he has been exclusively covering Long Beach prep sports since 2007.
http://The562.org
Related Articles
In a week that has featured shutdowns and postponements for a number of high school teams in Long Beach, both Poly and Lakewood found themselves shorthanded for Tuesday night's Moore League clash at Vets. Additionally, both squads were coming off less than ideal starts to their league campaigns, as a couple of tough losses prior […]
We've got some great shots of the Lancers and Panthers girls' water polo game thanks to photographer Stephen Dachman.
Women's athletics were celebrated and supported on Wednesday at Long Beach State where dignitaries and donors ceremoniously broke ground on the softball and women's soccer clubhouse on campus. The $3.5 million facility, which will include team lounges and locker rooms, will be at the LBSU Softball Complex next to George Allen Field where the women's […]