VIDEO: Compton vs. Compton Centennial, Football
Read more about the Compton Tarbabes at The562.org http://www.the562.org/2018/08/18/football-compton-shuts-down-compton-centennial/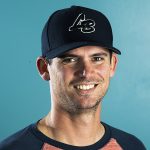 JJ Fiddler
JJ Fiddler is an award-winning sportswriter and videographer who has been covering Southern California sports for multiple newspapers and websites since 2004. After attending Long Beach State and creating the first full sports page at the Union Weekly Newspaper, he has been exclusively covering Long Beach prep sports since 2007.
http://The562.org
Related Articles
Photo by John Napalan/Art O'Neill The Compton girls' basketball team made history last season under head coach Derrick Anderson, not only making the playoffs as the fourth-place team out of the Moore League, but winning a first-round game at home to advance to the second round for the first time in decades. The truth is, […]
This week on the show we're looking back on some of the most memorable Long Beach playoff runs we've covered over the last 14 years.
The Compton Tarbabes ran their record to a perfect 5-0 with a Moore League-opening win over Jordan, 46-18. "The goal is just to be able to execute," said Compton coach Calvin Bryant, whose team is off to its best start since 2008. "All in all we played as a group." Niles Hibbert led Compton with […]